» ACCESS TO THE SYMPOSIUM PLACE
ACCESS TO THE SYMPOSIUM PLACE
SYMPOSIUM PLACE
"Kambai-kan" building in Muromachi Campus of Doshisha University
103 Gosho Yahata-cho, Kamidachiuri-sagaru, Karasuma-dori, Kamigyo-ku, Kyoto-shi, Kyoto-fu, JAPAN
http://www.doshisha.ac.jp/en/information/facility/kambai.html
ACCESS
Kambai-kan is located in the center of Kyoto city and surrounded by a lot of temples, shurines, historical monuments etc..  It's easy to access from JR Kyoto station and Kansai international airport.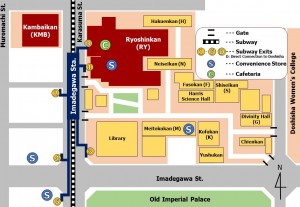 From Kansai International Airport To JR Kyoto Station
It takes about 75 min. by JR airport express "Haruka" or about 85 min. by limousine bus.
http://www.kansai-airport.or.jp/en/access/index.html
From JR Kyoto Station to Kambaikan
– Take the subway "Karasuma Line"
– Get off the subway at "Imadegawa" (9 min. from Kyoto station)
– Go out No. 2 exit and you'll find "Kambaikan" building in Muromachi Campus of Doshisha University (1 min. walk)
MAP (web site of Doshisha Univ.)
http://www.doshisha.ac.jp/en/information/campus/access/muromachi.html