The 3rd International Moon Village Symposium and Outreach Event in Kyoto "Space Education and Outreach Activities"
The Moon Village Association(MVA)presents the 3

rd

International Workshop and Symposium in Tokyo and Kyoto, Japan on December 5 through 8 jointly hosted by the Unit of Synergistic Studies for Space, Kyoto University; the Research Center for Space Colony, Tokyo University of Science; and the Institute of Law, Keio University. MVA was established in 2017 as a non-governmental organization whose goal is to foster human activities on the moon.
In Kyoto, the Symposium (open to the public) is held in the Hokubu (North) Campus of Kyoto University on December 8 under the theme of "Space Education and Outreach Activities." This provides an excellent opportunity to know about the activities of MVA and space education. Please join us.
For more detailed information about the

Tokyo and Kyoto events

, please refer to the following.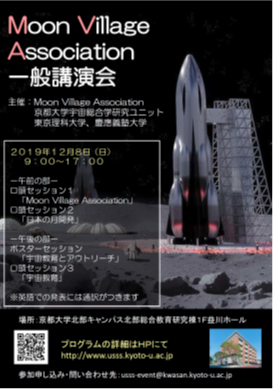 <English-guided Half-day Bus Tour of Historic Kyoto>
Date & Time: Saturday Dec. 7, 13:00-17:00
Places to Visit (Subject to change):
Fare: 5,000yen per person (including tax, non-refundable), collected at the meeting point of the tour. Payable in cash only.
Maximum Number of Participants: 45
Reservation is accepted on the first-come-first-served basis.
<Important Information>
Meeting Point: Kyoto Station
Detailed meeting point information will be announced at a later time
Finishing Point: Kyoto University
The tour bus will take you to your hotels after MVS reception.
<Suggested Travel from Tokyo to Kyoto by JR Shinkansen – Bullet Train>
Leave Tokyo Station at 10:20, Arrive Kyoto Station at 12:35
Buy your lunch at Tokyo Station, enjoy lunch on the train!!
Join us for the tour ↓
Event Overview                                     
Date & Time:9:00~17:00, Sunday, December 8, 2019
(Building 13 on the above map)
Registration Fee:Free
Poster Session Application :See below.
Registration Application:See below.
Poster Session Application                                 
The Poster Session is the opportunity for networking with MVA members, various researchers, students, and general public. We welcome applications (Maximum: about 30 posters).
We ask your understanding that we may have to decline your application when we reach the maximum capacity,
Any topics related to "habitation on the moon" and"living in space" arehighly valued.
Poster size: A0 (horizon: 841 mm x vertical: 1189 mm)
Deadline: November 18, 2019
Click the link, enter the necessary information, and send the form.
Registration                                  
All participants (except for those who already registered with the Workshop in Tokyo) must complete registration prior to participating the event. (Maximum capacity: 120)
We ask your understanding that we may have to decline your registration when we reach the maximum capacity,
Click the link, enter the necessary information, and send the form.
Program                                   
Sunday, December 8, 2019
【Venue:Maskawa Building for Education and Research, North Campus, Kyoto University】
Language:English(Non-Japanese Speakers)、Japanese (Japanese Speakers)
*Simultaneous translation between English and Japanese is provided.
9:00-9:20  Opening
Opening remarks: Takao Doi (Kyoto Univ.) / Setsuko Aoki (Keio Univ.) /Giuseppe Reibaldi (MVA)
9:20-10:40  MVA Session-1 "Moon Village Association activities: Introduction to General Public"
Giuseppe Reibaldi (MVA): Activity of MVA Overview
John Mankins (MVA): Architecture needed for Moon Village
Oleg Ventskovsky (MVA): Making Business in the Moon Village
Aline Decadi (MVA): Introduction of MVA educational activity
10:40-12:00  Session II "Japanese activities aiming at building society on the Moon Government, Commercial sector and Ventures"
Hiroshi Sasaki (JAXA): JAXA's space exploration now
Kazuyoshi Kawasaki(JAXA): Encouraging commercial sector's activity for exploration
Misuzu Onuki(Space Access): Business Development on the Moon
More speakers are to be invited
12:00-13:00 Lunch break
13:00-15:00  Poster session "Space education and outreach"
Kyoto University Space Unit is promoting and encouraging activities of young students including high school boys and girls. In the poster session, they show these student activities by 20-30 posters and on-site presentation. Exchange with attendants are to be made.
15:00-16:30  Session III "Space Education"
Introduction of unique space educational programs and human resource development in "Space Unit" of Kyoto University such as students' exercises in ZeroG flight, Bio-dome in Arizona, Astronomical Observatory and so on, will be made. Speakers related to these student activities promotion in and out of Kyoto University are to be invited.
16:30-17:00  Summary and Closing of Kyoto-session